A couple of weeks ago I found the seeds for Allium Polyanthum (Many flowered Garlic) and Allium Angulosum (Mouse Garlic) – both of which were hard to find in the UK – at a site called http://rareplants.eu
As it was 2am and my brain wasn't firing on all cylinders – I made an order for these and one other packet of seeds and then promptly forgot about them.
Today I received an envelope with these three packs of seeds together with a Sample free pack of Canarina Canariensis (which unfortunately wouldn't survive the North East Of England).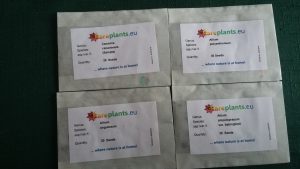 You'll notice that the packet on the bottom right says Allium Ampeloprasum var Babingtonii – Babington Leeks
I sent an email to the company to verify that was what they were (because afaik they rarely/never produce seeds and the description and photo on their website didn't correspond to Babingtons).  They replied quickly saying
 it is var. ampeloprasum which usually does propagate by numerous bulbils, yet it does (rarely) set a couple of seeds in between the bulbils.
I obviously complained about the mislabelling of Allium Ampeloprasum var Ampeloprasum (Elephant Garic) as Allium Ampeloprasum var Babingtonii. The response I received shortly afterwards was this
 Hello again, I now had a closer look into our offered items and you are correct, we mixed up both varieties in the shop system. Varieties´ names did not correspond with texts and photos. This has now been corrected with the corresponding photos from our plants. We do have seeds from both varieties and unfortuntately I am not sure, which ones were included. Thus I just gave you a refund for this item and also reimbursed the order handling charge as an apology for this mistake. Seeds from Allium ampeloprasum var. ampeloprasum are smaller in size than those in var. babingtonii – which of course is hard to distinguish as we shipped one batch only. Again, I regret this unintended mistake.
The description on the website was updated and both plants now have their own listings. So I may have one or the other.
My first email was at 7pm UK time and by 9pm I had my refund and the corrections had been made to the website.   This is what I call really good customer service – no sending photos of the packaging and seeds, no emails back and forth just a simple hands up our mistake and here's your money back (not all of it of course – the other seeds were exactly what I ordered).
As rareplants.eu is based in Spain, I think they are an hour ahead of the UK at the moment so it must have been 10pm their time when they sent me the last email.
Likes

(

0

)
Dislikes

(

0

)